3 Exciting New Careers in Nutritional Psychology
Published on: November 22, 2021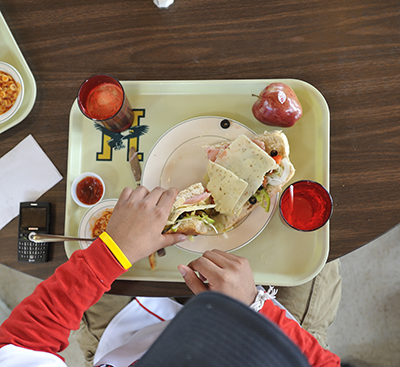 Is there a connection between mental health and food? As anyone who enjoys comfort food will tell you, absolutely. Now, research literature seems to agree, especially for those following a western diet. Just like eating certain foods can comfort you, dietary patterns may play a role in depression and attention-deficient/hyperactivity disorder. Consequently, it makes sense that changing your diet can make a difference in how you feel. That is the basis behind an attractive new career option – nutritional psychology. 
Explore Online Degrees
What Is Nutritional Psychology?
Nutrition psychology is the study of the role nutrition plays in mental health. Psychology is the investigation of the inner workings of people, such as emotions, feelings, motives, values, culture, and experience. Nutritional science investigates the impact of diet and nutrients on our physical health. Nutrition psychology combines these disciplines.
Pioneer Bonnie J. Kaplan
Interest in this field began when pioneer experimental psychologist Bonnie J. Kaplan, PhD, read a study conducted by a father looking for a cure for his family's mental health problems. That early research led Kaplan to discover that broad-spectrum micronutrients improve overall functioning.
Connecting Mental Health with Diet
A mental health professional's job is to address the various components that lead to positive and negative mental health, including cognitive and behavioral elements. Nutritionists look at diet and how it can lead to positive physical health. A nutritional psychologist studies the interdependent relationship between what you eat and psychological experiences. It is an investigation of the Diet-Mental Health Relationship (DMHR).
Nutritional psychology is a discipline that relies on psychology, neurology, nutrition, physiology, food science and education to establish a framework for creating a more thorough knowledge of the Diet-Mental Health Relationship.
Nutritional psychologists follow concepts similar to integrative health studies. Integrative health is a healthcare movement that promotes a holistic, patient-centered approach. The primary goal of this movement is to treat the patient as a whole person rather than as a collection of symptoms.
The goal of nutritional psychology is to use the principles of whole health to help people take charge of both their physical wellbeing and mental health.
With a nutritional psychology degree, you can work in a variety of professions. Since this is an emerging field, new opportunities will likely develop over the coming years. 
Nutritional Psychology Careers
Nutritional psychology is an emerging field – one with many paths. The increasing awareness of the connection between diet and health means there are many other career options for someone looking to work in this field, including these three exciting options.
Clinical Psychologist
Clinical psychology is one of the essential subfields in psychology that works one on one with patients in a clinical setting. A desire for inquiry, learning, and listening is key for success as a clinical psychologist.
Education Path to Become a Clinical Psychologist
The path to becoming a clinical psychologist starts with a bachelor's degree in psychology. This allows students to learn the fundamentals of mental health treatment.
Once you get your four-year psychology degree, you can enroll in graduate school to get a master's degree in psychology, which is the minimum requirement to practice in a clinical setting. You may consider furthering your study to enter a doctoral program to earn a PhD. You might also get a PsyD degree, which allows you to bypass the traditional research necessary for a PhD.
Specializing in Nutrition
While in graduate school for your master's, PsyD, or PhD., you can focus your clinical study on nutrition and how it affects mental health. You can also apply for a dual-track master's degree, study nutrition and psychology, or take additional classes to get a post-graduate certificate.
Graduation certificate programs might include:
Health psychology
Nutritional counseling
Nutrition
Integrative health
Having a post-graduate certificate in a related field qualifies you to specialize in nutrition as a clinical psychologist.
Registered Dietitian
A clinical psychologist chooses psychology as their main course of study. A registered dietitian approaches a career in nutritional psychology from the other direction.
Education Path to Become a Registered Dietitian
A dietitian starts their study with a bachelor's degree in nutrition in a program with proper accreditation from the Accreditation Council for Education in Nutrition and Dietetics (ACEND). It is currently unnecessary to earn a graduate degree to work as a registered dietitian, but that will change in 2024.
As of January 1, 2024, anyone looking to take the registration exam must have a graduate degree, either a master's or doctorate. The requirements to work in this field vary from state to state, as well. Some states require a set number of clinical hours to get licensure.
Specializing in Psychology
The next step would be psychology training. For some, that means going back to school to get a bachelor's degree in psychology.
There are also graduate certifications that might qualify a registered dietitian to work as a nutritional psychologist. A graduate certificate in health psychology might be acceptable in some areas, for instance.
Each state sets its requirements in most health fields, so it's imperative to do some research to see what it takes to work in nutritional psychology where you live. The scope of practice will vary from state to state.
Wellness Coordinator
Working in corporate wellness or as a wellness coordinator is a third promising option for studying nutritional psychology. Corporate wellness programs are rapidly expanding throughout the United States.
These programs aim to create environments in which employees may enhance their health and fitness at work.
Education Path to a Corporate Wellness Career
Some schools are beginning to offer bachelor programs in corporate wellness. You can also get a degree in a related field, such as integrative health, psychology, exercise science, or nutrition.
Many schools offer post-graduate certification programs in workplace wellness, too. Workplace wellness programs comprise employment-based activities and employer-sponsored perks to encourage employees to engage in healthy habits and illness management.
Corporations looking to hire a wellness coordinator will have their criteria for what they want regarding education. They will expect credentials in line with their job requirements.
Specializing in Nutritional Psychology
Once you get your bachelor's degree in a related field, such as human resources or integrative health, you could go back to school and get a second degree in psychology to focus your services. You can also take post-graduate certification programs in health psychology or nutrition. The point is to take certification courses that fill in the training you need to Incorporate nutritional psychology into a corporate wellness program successfully.
Whether you enter a program to study nutritional psychology specifically or choose a career path that aligns with those same principles, you will impact people's lives and health.
As a nutritional psychologist, you could find employment opportunities in a variety of places, including:
Schools
Substance abuse treatment programs
Rehabilitation programs
Educational institutions
Healthcare systems
Clinics
Hospitals
Corporations
Today, so much focus is placed on wellness that the options are wide open for someone who studies nutritional psychology, and this field as well as the education to work in it continues to grow and evolve. We now know that the adage "You are what you eat" doesn't just apply to physical health. The dietary choices people make have an impact on both their physical and mental health.
This growing awareness has led to a demand for those who specialize in nutritional psychology. You can build a rewarding career – one that allows you to serve the community. Husson University offers  an online psychology degree with the unique ability to take classes in nutrition and healthcare as part of your degree. If you are interested in a career that combines your passion with psychology, contact our admissions team to learn more about how to get started!
Back to All Articles