How to Choose the Best Online MBA for You
Published on: October 27, 2021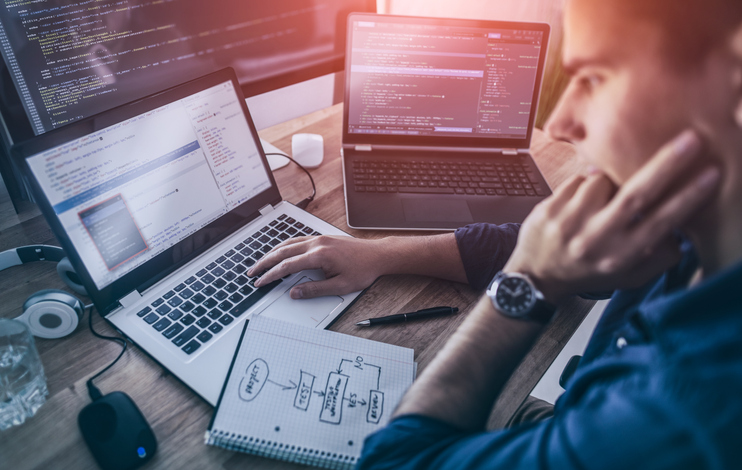 Online MBA programs are an ideal solution for many students, enabling them to earn their MBA from the comfort and convenience of their own home while at the same time avoiding certain expenses, such as on-­campus housing and travel-­related costs. However, not all online MBA programs are created equal. In order to get as much value for your time and money as possible, it's important to narrow your selection to only the top online MBA programs. In this article, we will explore what an online MBA program is, the benefits that it offers, and how to choose the best online MBA program for your career goals.
Explore Online Degrees
MBA Program Overview
An MBA is a degree program that is ideally suited for anyone pursuing an executive or management level career in business as well as budding entrepreneurs. Accredited online MBA programs cover a broad range of business disciplines, including accounting, marketing, finance, organizational behavior, business ethics and management. This broad­-ranging curriculum prepares students for an equally broad range of leadership careers in the field of business, and it arms them with the skills and knowledge they need to successfully start their own companies.


Types of Online MBA Programs
There are several different types of online MBA programs to choose from, including:
Full-­Time Online MBA Programs
Full-­time MBA programs require you to take on the workload of a full­-time student. Most full­-time MBA programs take two years to complete.
Part-­Time Online MBA Programs
Part-­time online MBA programs are ideal for students who have work, family or other commitments that prevent them from being able to commit to a full-­time academic schedule. Part-­time MBA programs spread the program's coursework over three to five years, making it easier for students to earn their MBA while still balancing other commitments.
Hybrid MBA Programs
Hybrid MBA programs combine online and in-­person learning. These programs tend to be a little more costly than fully online MBA programs, though not as costly as an MBA program that is entirely on campus. Students can complete hybrid MBA programs on either a part-­time or full­-time basis.
Accelerated Online MBA Programs
Accelerated online MBA programs are designed to compress two years' worth of material into 12-­18 months. These fast-paced programs can be a real challenge to complete, and students will likely need to enter the program already having a strong understanding of business fundamentals to be successful. There are benefits to an accelerated online MBA program aside from the fact that it allows you to earn your MBA in much less time. For example, accelerated online MBA programs are often more affordable than other options and these programs encourage a constant engagement with the material that many students find beneficial.
Executive MBA Programs ­
Executive MBA programs are designed for students who have already acquired at least five years of business experience. These programs are geared toward those who have already entered the business workforce and are looking to advance their careers through further education. In these cases, executive MBA programs tend to be a little more fast-­paced and flexible when it comes to scheduling options.

Typical MBA Concentrations
Top online MBA programs will provide you with the ability to choose from several different specializations and concentrations, including finance, general management, entrepreneurship, corporate strategy and more. While an MBA is designed to be a broad­-ranging program that spans the spectrum of business disciplines, choosing to concentrate your education on a more specific discipline can be of great benefit if you've already decided on the specific career path to pursue.

What Technology Will You Need for an Online MBA?
The only tools you will need to complete an online MBA are a laptop or desktop with an internet connection as well as any video-conferencing software that your instructors might make use of, such as Zoom or Microsoft Teams. Certain instructors may require you to download additional software applications such as the Microsoft Office suite of software.

On­-Campus and Travel Requirements
In many cases, online MBA programs can be completed entirely remotely, meaning that you will never be required to travel to the campus or meet with your instructors in person. However, there are some exceptions to this rule. Though it isn't particularly common for most online MBA programs, some instructors will require you to travel to campus in order to complete certain projects or exams. If you choose a hybrid MBA program, meanwhile, you will be required to travel to campus on a regular basis in order to complete the in-­person portions of the program.


Faculty and Staff
Attending an online MBA program doesn't have to come at the cost of top­-quality instruction. Many online MBA programs are taught by some of the best instructors in the field of business. While you may not have the chance to interact with these instructors in person, online MBA instructors still hold office hours, allowing students to schedule virtual visits to ask questions or receive extra, one-on­-one instruction.


Online MBA Coursework
Students completing an online MBA program will still be required to complete the same basic coursework as students attending the program on­-campus. This includes reading assignments and worksheets, tests and quizzes, projects, and all the other typical coursework associated with an MBA program. The only real difference is that the coursework required for an online MBA program will be assigned and turned in online.


How Much Does an Online MBA Cost?
The cost of an online MBA program will ultimately depend on the specific program you choose. Some MBA programs cost as little as $10,000 to complete while others can cost $80,000 or more. The good news, though, is that completing an online MBA program is almost always going to be more affordable than completing a comparable program on ­campus. With an online MBA program, you avoid expenses like meal plans, travel and housing, leaving tuition and purchasing the required materials as the only expenses you incur.


Online MBA Tuition
Tuition for online MBA programs is charged on a per­-credit basis. Once again, though, the exact per credit charge that you can expect to pay will vary depending on the program you choose. Some online MBA programs charge as little as $200 - ­$300 per credit hour, while others can charge more than $1,000 per credit hour.


Paying for an Online MBA
Students paying for an online MBA may have the same basic financial aid options available to them as traditional students. This could include both need­ and merit-­based scholarships as well as student loans. It is worth pointing out, though, that not all scholarships and loans will be available to online students, and it varies by school and program. However, there are some scholarships created specifically for students attending online programs. Be sure to speak with the financial aid advisor of the school you are considering in addition to completing the Federal Application for Student Aid (FAFSA) to determine what financial aid options are available to you.


How Long Does It Take to Get an MBA Online?
As with online MBA cost, the amount of time it takes to complete an online MBA program will ultimately depend on the program you choose. We've already mentioned the fact there are several different types of online MBA programs, and the biggest distinguishing factor between these types of programs is how long they take to complete. A standard online MBA program with a full­-time workload takes two years to complete. Part­-time MBA programs offer flexible scheduling and can take anywhere from three to five years to complete, depending on the specific program and the exact schedule that you choose. Accelerated online MBA programs, meanwhile, pack the entire two years' worth of coursework into 12­-18 months. These fast-­paced programs require a great deal of commitment, but they can be a great option if you are up for the challenge and would like to reduce the time it will take.


Are Online MBA Programs Easier to Get Into?
Generally, online MBA programs are easier to get into than residential programs. A study conducted by US News and World Report showed that the 2019 average acceptance rate for 131 ranked business schools was 55%. According to Princeton Review's 2021 Top 50 online MBA schools, the average acceptance rate is 75%. In both cases, there is still a mix of highly selective and highly accepting MBA programs within the averages. 
With that said, the popularity of online MBA programs has been steadily increasing over the years, and more and more prestigious schools are now offering online programs. This increasing demand is causing the acceptance rate of online MBA programs to move closer toward the acceptance rate of residential MBA programs.


No­-GMAT Online MBA Programs
Most MBA programs require prospective students to pass the Graduate Management Admission Test (GMAT) before they will be considered for admission. However, there are a number of online MBA programs that do not have this requirement in place. Since the pandemic, there have been increasing numbers of schools waiving the GMAT requirement. If you can do so, completing and passing the GMAT ensures that you have the widest range of options available to you. For those who are unable to take or pass the GMAT, though, online MBA programs that don't require it are still an option. 


Is an Online MBA Worth It?
As technology continues to change the way we work and learn, the top universities in the world have evolved to offer online programs to their students and stand by the quality of those programs. An online MBA is certainly something that can benefit your career in more ways than one—so long as you choose the best online MBA program for you. Below are additional considerations to help you determine the full value of the online MBA programs you are researching.


Program Reputation
Perhaps the biggest factor when it comes to determining the ultimate value of an online MBA is the reputation of the program offering it. Potential employers are going to view an MBA from a reputable and accredited program as much more alluring than an online MBA from a program that is not as reputable. It's also important to note that the best online MBA programs have earned their reputation for a reason, and the quality of education you can expect to receive when you choose a reputable MBA program will be much higher.


Accreditation for MBA Programs
Ideally, anyone searching for the right online MBA program should narrow their choices to accredited online MBA programs only. With an accredited online MBA program, you can rest assured you will receive a high­ quality education as well as ensure that any potential employer will view it favorably.


Alumni Network
The saying "it's not what you know, but who you know" still holds a lot of truth, and one of the biggest benefits of higher education is the fact that it offers entrance to the school's alumni network. While you may never meet any of your fellow classmates in person with an online MBA program, becoming an alumnus of a reputable university is something that can still offer plenty of value and networking opportunity to your career.


Career Services
Another important factor to consider when determining the value of an online MBA is the fact that attending an online MBA program will provide you access to the school's career services department. The entire purpose of these departments is to help students find a job and achieve their career goals, and the connections and resources that they offer are often quite valuable.


Calculating the ROI of an MBA
The return on investment of an MBA can be a little complicated to calculate. Earning an MBA is an investment in your future career, and how much that investment ultimately offers in return will vary dramatically on a case-­by­case basis. Perhaps the best way to analyze the ROI of an MBA is to take a look at how much those who have received their MBA earn, on average, compared to the general public. In 2020, the average annual salary of professionals holding an MBA was $137,890. Across the board, full­-time employees in the United States earn an average of around $50,000 a year. When looking at these statistics, it's easy to see that the ROI on an MBA is typically quite substantial.


Ready to Explore Your MBA Program Options?
Attending an online MBA program is a great option for many students, enabling them to earn an MBA on their own schedule and from any location they choose while at the same time avoiding many of the expenses that come with attending a residential MBA program. However, it is certainly important to choose the right MBA program to get as much value as possible out of your investment.
At Husson University, we are proud to offer one of the best online MBA programs in the country today. Our online MBA program is accredited by the International Accreditation Council for Business Education (IACBE) and offers flexible online classes with 24/7 access. To apply for this program and get started earning an education that will offer a wealth of career opportunities, simply complete our online application form today.
Get Your Master of Business Administration Degree
Back to All Articles