How to Become a Web Designer
Published on: August 16, 2021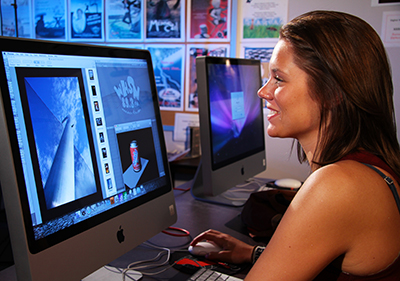 Your Guide to a Web Design Career
Web design is a challenging and exciting career that offers opportunities all around the world. If you dream of a life as a web designer, you can make this dream a reality more easily than you may think. Below is some basic information about web design, as well as the steps you need to follow to enter this field.
Explore Online Degrees
What Does a Web Designer Do?
A web designer is a trained professional who is responsible for developing the layout and overall design of specific webpages or an entire website. Web designers also design applications. Web designers may design new websites or apps from scratch, or they may update the design of a site or app that already exists. These professionals work with text, graphics, pictures, sounds and video clips.
When designing a website or application from scratch, web designers may make several drafts of the site before finalizing the design. The web designer may work with a client to get feedback and make changes, as needed. The web designer may also work with other professionals, such as web developers, to create the finished product. Instead of designing one unique site, web designers may create templates or themes for content management systems (CMS).
Redesigning a website or app is similar to making the initial design. However, rather than starting from scratch, the designer may use some of the content, images, graphics or videos from the initial site or app design. Likewise, when designing site updates or new pages and features, web designers will build on the existing website or application.
Some of the specific responsibilities of a web design job may include:
Creating designs for new websites
Making sample websites
Making changes to website designs based on feedback
Retouching and editing images
Creating applications that are both visually appealing and easy to use
Working with web developers to produce the necessary code
Staying up to date on the latest web design technologies
What Is the Difference between Web Designers, Graphic Designers and Web Developers?
Because all three of these job descriptions sound similar, it can be difficult to tell the difference at first. However, these three careers are distinct from one another. As we have already discussed, a web designer is a professional who designs websites and applications. Web developers, on the other hand, are responsible for writing the code used to bring a web designer's vision to life. Graphic designers are similar to web designers in that they use software and/or hand drawings to make designs and layouts. However, while web designers work specifically with websites and applications, graphic design encompasses a wider range of digital and print products, such as magazines, advertisements, brochures, reports and other materials.
Keep in mind that, even though the role of a web designer is different from a web developer, there may be some overlap between these two positions. Because of the potential for overlap, web designers can benefit from learning about programming languages.
Salary and Career Outlook: Web Developers and Digital Designers
According to the U.S. Bureau of Labor Statistics (BLS), the career outlook for web developers and digital designers is positive. The BLS reports that employment in this field is projected to grow by 8 percent from 2019 to 2029, which is twice the national average for all occupations.
The BLS attributes this increase in job openings to the growth of ecommerce, which is also expected to continue at a rate faster than the average for the retail industry in general. As retailers continue to expand their online presence, the demand for web developers and digital designers will only increase. In addition, the uptick in the use of mobile devices has also added to the need for web developers and digital designers. Web developers and digital designers must now design websites and applications that can work well with screens of various sizes, which adds to the complexity of each project.
The BLS also reports that the median annual wage for professionals in this field was approximately $77,200 as of 2020, with the highest 10 percent of earners making more than $146,000 annually. This wage is substantially higher than the average for all occupations in the United States, which was $41,950.
Web Design Career Options
Web designers may work as freelancers, or they may be employed by software companies, corporations, web design companies, or any other organization that uses computer systems.
Freelance work gives web designers more freedom, allowing them to set their own schedules and choose the projects they will accept. However, freelance work can also be less reliable, especially when you are new to the field and do not have established clients.
Working with an agency, corporation, web design company, or another employer does not allow as much freedom. Your working hours and the projects you take on will be determined by your employer. However, working with an employer helps guarantee a steady stream of income and a greater level of stability, making it the better choice for some web designers.
Remote Work
Working in web design offers countless opportunities to work remotely. All of your responsibilities as a web designer can be fulfilled from any location with the help of technology. Even if you need to conduct meetings, these meetings can be held virtually if everyone else is in agreement. Working remotely gives you the ability to travel if you want to, work from home, set your own schedule, and spend less time commuting. When searching for a job, be sure to ask about the possibility of working remotely if this is a feature that you would like to enjoy.
Career Path and Advancement
The course of a web designer's career can vary. While some web designers may choose to work for an employer and move up through the company's ranks, others may choose to work as freelancers. If you decide to freelance, you will be building a business over time. In either case, a successful web designer can expect to see a higher salary and better benefits as they build their careers. Although you may begin your career earning a salary at the lower end of the spectrum, you should be able to increase your salary and your influence over time with hard work and dedication.
What Degree Do You Need to Become a Web Designer?
Most web designers will have at least a bachelor's degree before entering the field. The degree you need may go by different names, depending on the institution you choose. For example, the degree may be called "web design," "web development and design," or something similar.
When enrolling in a web design degree program, you will likely be able to choose from both in-person and online options. If you learn better in an environment with one-on-one interactions and immediate feedback, in-person learning may be the best choice for you. However, online web design programs offer other benefits, such as the ability to learn at your own pace, set your own schedule, and avoid traveling to and from a physical classroom.
Web Design Course Format
The exact format and coursework you complete will vary based on the program you choose. For example, Husson University offers an online software development degree that requires students to complete at least 122 credits.
The required curriculum includes 44 to 45 hours of general education study, covering topics such as speech, college writing, and probability and statistics. The integrated core curriculum requires students to study introduction to business, marketing, interpersonal communications, computer programming and project management. To complete the web media concentration, students will study IT security, user experience and interaction design, interactive web design, search engine marketing, graphic design and web imaging.
Essential Business Skills and Tools for Freelance Web Designers
If you are thinking about becoming a freelance web designer, you will need a number of skills and resources in order to build a lasting career. Below are some of the essential business skills and tools freelance web designers can use to be successful in the industry.
Useful Software Programs
An expansive list of software programs is now available to web designers, making it easier for designers to create innovative, user-friendly websites and applications with less time and effort. Some of the most popular software programs used by web designers are discussed below.
CoffeeCup HTML Editor
CoffeeCup HTML Editor is a low-cost program that allows web designers to work in code or choose an existing theme to guide their design. This program also allows web designers to use any active website as a starting point for updates or a new design.
OpenElement
OpenElement is a free web editor that web designers can use to edit lines, tables, images and text, as well as other page elements.
RapidWeaver
RapidWeaver is a web design program that can be used on Mac only. It includes both built-in and community-built themes designers can use to construct new websites. In addition, this software is known for its ability to generate code that is SEO-friendly (Search Engine Optimization), and it allows designers to see a preview of their work as it will appear on various Apple devices.
Adobe Dreamweaver
Adobe Dreamweaver is a coding engine that allows web designers to build a new site from scratch or use a template. This program also offers real-time previews of each web page as the designer makes changes.
Types of Code
Different types of code can be used to create websites and applications. Knowing anything about coding can be beneficial to web designers. However, some types of code are more useful than others. In fact, to make it as a web designer, it is likely that you will have to know at least some code.
Essential Code
The types of code most important to web designers are Hyper Text Markup Language (HTML) and Cascading Style Sheets (CSS). HTML is relatively easy to learn. It provides the browser with the basic "skeleton" of the website so it knows what to display on each webpage. CSS, on the other hand, provides more detailed information about how the content should appear in the browser.
To work successfully as a web designer, it is not necessary to become a programming languages expert. However, having at least a basic understanding of these languages can make it easier for you to complete projects on your own, as well as to collaborate with web developers and other professionals who work in code.
Beneficial Code
In addition to knowing the essential coding languages, it is also a good idea to learn about some of the other languages programmers may use when bringing a website design to life. Coding languages that are optional but beneficial include JavaScript and Asynchronous JavaScript and XML (Ajax).
Unlike HTML and CSS, which are designed to give a website structure, Javascript allows the page to become interactive. This is a text-based programming language that operates primarily on the client-side.
Ajax is a technology that communicates directly with the server in the background as you work, which means you can see the changes you make without having to reload.
You can learn about all types of code through independent study or by studying code in your web design degree program. Most web design programs will cover at least some basic coding language skills. However, you may have the opportunity to take electives that cover coding which can improve your skills and make you more marketable as a web design professional. 
Design Skills
Becoming a web designer requires you to learn and practice a variety of different design skills. Honing these specific skills will give you the resources you need to succeed in your career. Some of the design skills that are most important for web designers include:
Designing for the User Experience
One of the most important components of web design is user experience (UX). Designing a complex and visually appealing site will not please a client unless the user experience is also positive. As a web designer, you must know how to design websites and applications that are user-friendly and easy to navigate.
Understanding Technology
Users who view the websites you design and/or use your applications may be accessing this content from a variety of different device types and browsers. As a result, it is essential for web designers to understand the different device types and browsers available so they can tailor their designs to work well in any environment. As devices and browsers are updated, you also need to be able to update your design techniques to meet these new demands.
Keeping Up with Design Trends
Design trends are always changing. To be successful in the field of web design, designers need to be aware of the current design trends and how they can be used most effectively. As a working web designer, you will also need to make a continuous effort to keep up with changes to these trends so you can provide your clients and/or employer with fresh, timely work at all times.
Search Engine Optimization and Landing Page Optimization
Search engine optimization (SEO) and landing page optimization (LPO) are two techniques used to make sure that the designs you create are search engine friendly. Many clients will want their websites to appear in search results when specific keywords are searched in order to target the right consumers. For this reason, it is important for web designers to understand how search engine optimization and landing page optimization work so they can effectively meet the needs of clients.
Soft Skills
In addition to design skills, you will also need specific soft skills to work as a web designer. These skills are more likely to be innate skills that you possessed before you began your training. However, it is also possible to develop these skills over time if you don't already have them naturally. Some of the soft skills you may need for a career in web design include:
The Ability to Collaborate
Web designers do not work independently on their projects in most cases. Typically, web designers will work closely with web developers and other professionals to bring their visions to life. Web designers will also need to communicate with employers and clients to ensure that the finished product meets the requirements. For this reason, it is important for web designers to work well with others and have a collaborative spirit.
A Client-Focused Nature
Your goal as a web designer is to create and produce quality work for your client. When developing and editing designs, you need to be continually focused on meeting the client's needs, as opposed to following your own intuition or preferences. You also need to be willing to listen and respond to feedback from the client throughout the design process.
A Lean Toward Right Brain
While left-brained people are more analytical, right-brained people tend to be more creative. Web designers need a healthy dose of creativity to build a successful career. Having some analytical and logical skills will be an asset in this career as well, but the strength of your right brain will be most important.
Building Your Portfolio
Whether you intend to work for a company or as a freelance web designer, you will need to build a portfolio of your work. When building your portfolio, remember that this is your chance to make a good first impression. Your portfolio should include a variety of different projects that showcase your most important skills. You should also continue to update your portfolio as you become more experienced in web design. If you work with more than one type of client, consider creating multiple portfolios and focusing each portfolio on a different type of project.
Other Resources for Web Designers
As a web designer, you have access to a number of resources that can help you build your career and improve your skills. Some of the best resources available to web designers include:
Smashing Magazine — an online magazine the covers all topics related to web design and development.
W3C — The World Wide Web Consortium is an international community that publishes standards and best practices for web design.
W3 Schools — This website provides instruction related to all the coding languages you will need for a career in web design.
Sources
https://www.bls.gov/ooh/computer-and-information-technology/web-developers.htm
https://www.toptal.com/designers/ui-ux/designers-coding
Back to All Articles