What Can You Do With an Accounting Degree?
Published on: July 1, 2021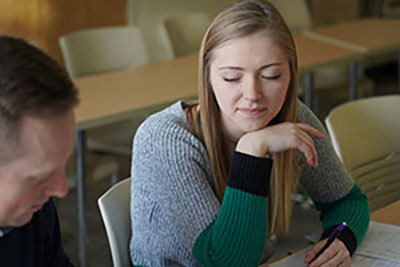 Pursuing an accounting major can be the first step on the path to a lucrative and satisfying career in a high-demand field with a broad spectrum of job types that span the business, government and nonprofit sectors. After all, individuals and organizations of all kinds have finances that they need to keep in order. 
Read on to learn more about the value of an accounting education and the various jobs you can get with an accounting degree. 
Explore Our Accounting Degree
Is Accounting a Good Major? 
Depending on the specific career path that you want to travel, a good accounting program can do wonders to help you along the way. Beyond pure accountancy and bookkeeping, countless finance, economics and business professionals can benefit from pursuing an accounting major. Consider your professional goals carefully and choose the right accounting degree for you. 
Types of Accounting Degrees  
Undergraduate Certificate in Accounting – Professionals interested in keeping accurate financial records and establishing a firm foundation of accounting skills can gain an advantage with an undergraduate certificate in accounting. At Husson University, you can earn a 15-credit Certificate in Accounting entirely online. 
Associate of Science in Accounting – Offering a more comprehensive education that extends beyond core accounting courses, an Associate of Science requires 60 credit hours in total. 
Bachelor of Science in Accounting – The most commonly obtained accounting degree, the Bachelor of Science(BS) in Accounting demonstrates a thorough knowledge of complex accounting strategy and opens countless career doors in a broad range of industries and sectors. The online Bachelor of Science in Accounting program at Husson University takes at least 121 credits to complete. 
Master of Science in Accounting – While the Master of Science (MS) in Accounting is often the right choice for individuals with a specific, high-level professional focus on accounting, other aspiring administrators in the financial services or management field may want to consider a Master of Business Administration (MBA) with a concentration in finance.  
Doctor of Philosophy in Accounting – The terminal degree in the accounting field, the Doctor of Philosophy (PhD) in Accounting is for academic experts and thought leaders who conduct original accounting research and share their findings with other scholars. 
What Can You Learn in an Accounting Degree Program? 
Stressing critical thinking at all levels of study, accounting majors gain valuable skills when it comes to the creation, implementation and operation of accurate and efficient financial systems, policies and procedures. You can go on to apply what you learn as an accounting student to find success in a variety of career sectors.  
Nine Types of Accounting Jobs 
To help you define the career path that will guide your training and education choices, it may be helpful to divide the accounting employment field into nine basic categories that are generally open to new graduates. 
1. Accountant 
From maintaining financial records for a private business to filing yearly taxes for individuals and families, accountants serve a broad range of valuable functions. A good accountant will serve employers and/or clients by employing targeted strategies to save money and time while following all government laws and industry regulations. Although their annual salaries vary widely according to their specific areas and levels of expertise, Salary.com estimates that US accountants make $86,630 on average.  
2. Forensic Accountant 
Forensic accountants collect and analyze detailed financial data to look for signs of illegal activity or recover assets lost through malfeasance or negligence. The typical forensic accountant commands a salary of $75,257 per year, according to Salary.com.
3. Certified Public Accountant 
After earning their academic degrees, accountants who want to work for large businesses or major government agencies typically become Certified Public Accountants (CPA). CPAs perform a broad range of duties in the corporate world, from tax management to financial analysis. Requirements for CPA candidates differ significantly from state to state, but most states demand many hours of study and training beyond those required for a typical Bachelor of Science. However, the additional work is often worth it. Drawing upon figures from the US Bureau of Labor Statistics (BLS), UWord places the average annual CPA salary at around $119,000.  
4. Auditor 
Auditors conduct financial audits by reviewing specific financial records and operational information to ensure that a company is adhering to sound accounting principles and complying with official reporting standards. After conducting a thorough account inspection, auditors can identify key issues and make recommendations to solve them. Even when an organization faces no immediate problems, an audit can reveal opportunities to prevent future problems through targeted risk management measures and save money through targeted efficiency enhancements. According to Salary.com, the average US auditor takes home $63,247 per year. 
5. Business Analyst 
Business analysts statistically analyze large sets of data with the specific intent to improve decision-making capabilities and optimize organizational efficiency. They can work within large companies as full-time employees or advise from outside the company as independent consultants. Although extensive financial knowledge is typically essential for this position, the average analyst has business expertise that goes beyond accounting. Common responsibilities of a business analyst include budgeting, forecasting and a strong command of business success factors and performance indicators. Salary.com estimates the average annual business analyst salary at $69,410 in the United States. 
6. Financial Advisor 
Financial advisors educate and guide clients on matters that include investments, taxes, mortgages and insurance as well as college, retirement and estate planning. Similar to most positions in the financial services and management sectors, salaries for financial advisors in the US vary substantially according to factors that range from ability and qualifications to tenacity and circumstance. Entry-level advisors make roughly $55,242 per year according to Salary.com, while experienced advisors average $103,653 per year.  
7. Controller 
Another term for a financial manager, a controller works in-house at an organization, and generally oversees and leads its accounting functions. In a large corporation, controllers usually report to the chief finance officer (CFO) and are responsible for all internal financial systems and reports. Controllers often come to their positions after rising through the ranks of several finance management positions that might include deputy controller or assistant controller. While these earlier positions may be considerably less lucrative, Salary.com reports that the average controller in the US makes $244,395 a year.
8. Actuary 
Actuaries use mathematics, statistics and financial theory to analyze financial risk and uncertainty. After identifying and quantifying risk, they can help employers and clients develop policies to avoid or mitigate that risk. The vast majority of actuaries work in the insurance industry, where their ability to compile and analyze statistical data helps to set premiums among other functions. According to Salary.com, actuaries command an average annual salary of $113,220. 
9. Consultant 
Any of the accounting practices outlined above can be improved by a quality consultant. Consultants serve businesses and other organizations to act as teachers and guides with goals that might include fostering accurate and efficient accounting practices, performing financial forecasting and assisting with regulatory compliance issues. Salary.com places the average income for an accounting consultant at $94,235 per year. 
Job Outlook for Accountants 
Across all industries and sectors, the employment outlook for accountants in general is quite good for the next eight years or more. Looking at data projections for business and financial accountants, auditors and specialists of all kinds through 2031, the BLS estimates a steady job growth rate of 6%. 
This rate is slightly better than the 5% rate of growth that the BLS projects for all US occupations. Although the BLS expects computer automation, artificial intelligence and other technological advancements to affect the role of accountants in the near future, the organization predicts that these changes will generally increase the efficiency of accountants without reducing their overall demand. 
How to Prepare for an Accounting Career  
Before you can begin to shape your professional future, you must position yourself for success by honing important skills and obtaining valuable credentials. For many finance and business professionals, a college degree in accounting is an essential first step. 
Learn more about what an undergraduate Certificate in Accounting or Bachelor of Science in Accounting can do for you by visiting Husson University online today. We will be happy to provide more information about both of our 100%-online and career-focused accounting programs.
Back to All Articles