Accounting Career Path: Which Degree is Right for Me?
Published on: July 1, 2021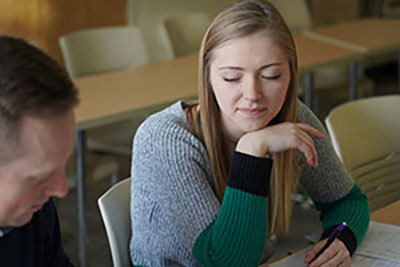 What Can You Do With an Accounting Degree?
Accounting is a high-demand field with significant earnings potential and a wide range of job types. Accounting jobs can be found in nearly every sector: after all, every business and nonprofit entity has finances to keep in order.
To those outside the field or just starting to learn about it, accounting can look like a linear path: You earn your bachelor's degree, earn additional credit hours to fulfill Certified Public Accountant (CPA) requirements, prepare for the CPA exam, and become a CPA. But reality is much more diverse. There are multiple levels of accounting jobs, from entry-level positions with an associate's degree to prestigious research and analysis posts that require a PhD. Because of this, "accounting degree salary" is a bit of a misnomer. Jobs generally pay well, but there's a vast range within the category.
To sort out the confusion, we've outlined a sampling of jobs you might be able to land at each degree level. We've also included some basic salary information with most positions to help you get a sense of what your earnings potential could be.
Bachelor's Degree in Accounting
The most common accounting degree, the bachelor's degree, is the key to unlocking doors to a solid and long-term career in the accounting field. It's also the starting point for pursuing more advanced degrees and credentials, such as the CPA (certified public accountant) or EA (enrolled agent).
There are several jobs you may be able to land with a bachelor's in accounting, including these.
Tax accountant
This specialized accounting position doesn't cover the entire scope of a client's business. Instead, it focuses only on the client's taxes. The primary goal of a tax accountant is to ensure that every client follows all applicable tax laws when filing. A secondary goal is saving them money in the process.
Most tax accountants work with companies, though some individuals with complex financial holdings may make use of a tax accountant as well.
Tax accountants' median earnings are $76,560 per year (unless otherwise noted, salary range for all positions comes from Bureau of Labor Statistics and reflect the median pay).
Certified Public Accountant (CPA)
By far the most numerous and most well-known path for accountants, the CPA is a specialized role dealing with public accounting, typically for large businesses. CPAs cover a range of responsibilities in this world, including auditing, tax preparation and examination, and client advisory services.
To become a CPA, you must first earn your bachelor's degree before pursuing state licensing as a CPA. Requirements vary by state but usually involve many additional credit hours of study (150 credit hours of college-level education, whether or not it leads to a graduate degree) and the passing of the CPA exam.
Pay for CPAs can vary widely but is generally quite good. BLS reports that the median salary is $76,560, while senior CPAs with many years' experience often earn more than double that amount.
Forensic Accountant
Forensic accountants deal with detailed financial information, often drawing conclusions from that data. Often, there's a legal or action-oriented edge to forensic accounting, looking for signs of wrongdoing or assets that can be recovered.
Forensic accountants also make a median salary of $76,000 each year.
Controller
A controller, or financial manager, works in-house at an organization, leading its accounting functions and generally overseeing that business unit. Controllers usually report to the CFO and are responsible for all internal financial systems and reports.
Controllers earn well, with a median pay of $134,000. Region and industry can affect salary significantly, though.
If you're planning to pursue a bachelor's-level accounting position, Husson's Bachelor of Science in Accounting is an excellent way to get there.
Associate Degree in Accounting
While it may not be as prestigious or as popularly known as the bachelor's program, the associate degree in accounting can be the start of several rewarding career paths in the world of accounting. You won't become a CPA without further study, but you could find your way into one of several careers to gain experience with only an associate degree.
Bookkeeper
A bookkeeper's main function is to organize financial transactions for businesses or individuals. Bookkeepers often produce invoices when this process is not automated. They also process payroll for companies and balance ledgers for various business accounts.
Bookkeepers often earn around $42,000 annually.
Tax Preparer
A tax preparer gets tax returns ready to file on behalf of clients. Many taxpayers do their own taxes, but those who do not typically enlist the services of a tax preparer. Associate-level tax preparers often handle income tax scenarios of low to moderate complexity, but not those of businesses who need the service of a CPA or enrolled agent.
The truth is, there are varying levels of accounting, so you'll see tax preparation listed as a duty of higher-paying jobs as well. Lower-level tax preparers usually work with individuals and families who don't need certified tax preparation.
Wages vary greatly in this field, from seasonal tax return retail shops to higher-end firms. The BLS median annual salary for tax preparers is $44,300, while Indeed reports that Tax Professionals at H&R Block make between $21,000 and $80,000 annually, while Glassdoor gives a wide range of between $8 and $31 per hour.
Accounts Payable/Receivable Specialist
These roles relate to the paying or receiving of funds. An accounts payable specialist is the one to schedule and execute payments to vendors or employees and generally track budget expenses, while an accounts receivable specialist handles the funds coming to the business.
Accounts payable and receivable positions typically pay around $42,000.
Master's in accounting vs MBA
Many working in the accounting field who already hold a bachelor's degree consider furthering their education with a master's program. There are two primary paths for doing so: a master's in accounting, typically a Master of Science, and the Master of Business Administration, or MBA.
For those pursuing the CPA credential, a master's in accounting can be an effective way to earn the additional credits necessary for the CPA license. While the master's degree isn't required, it's certainly an option. Nearly every university that offers both a bachelor's and a master's in accounting will reach the 150-credit threshold when the two degrees are combined.
A master's degree in accounting can prepare you for a career as a CPA. Many C-level financial executives also hold this degree level, as do other advanced and leadership-level accountants. Many with advanced certifications such as certified internal auditor or certified management accountant (CMA) also earn a master's degree before pursuing these additional certifications.
Another path for those working in the accounting field is to pursue an MBA. An MBA is not exclusive to the field of accounting, but many accountants find it a rewarding degree program, nonetheless. If you're seeking to start your own business, an MBA will equip you with general business skills that many undergraduate programs lack.
Many MBA programs, including the MBA program at Husson University, offer several concentrations to further narrow your focus. A concentration in business analytics, risk management or organizational management could complement your accounting studies, preparing you for a more advanced or specialized accounting position. Or you could learn the world of entrepreneurship and innovation so you can focus on the financial side of startup culture.
Salary prospects with an MA, MAcc, or MBA in accounting range widely. Median CPA salaries are around $76,000 per year, and leadership and executive positions scale upward from there — sometimes aggressively so.
Doctorate in Accounting
If you've already earned a master's degree and have your sights set on research or teaching careers, you may be interested in pursuing a PhD in accounting. This degree is rare in general and relatively rare among practicing accountants. Most who earn a PhD in the discipline go on to find careers as public policy researchers, professors of accounting, or they serve as high-level analysts or consultants.
While academia doesn't tend to be particularly lucrative, professors of accounting earn quite a bit, with median salaries around $80,000. Top-tier schools commanding very high tuition tend to pay even more.
Average pay for public service and for analysts and consultants at this level again ranges widely. But given the intense investment in education, successful professionals in these positions command a significant sum for their services.
Husson University Offers Quality Online Programs with a Small College Feel
Are you ready to begin or continue your educational journey to a rewarding career in accounting? Husson University offers quality degree programs, including a Bachelor of Science in Accounting and a Master of Business Administration. Both of these degree programs can help you prepare for whatever accounting career path you're seeking and will help you meet the accounting education requirements of becoming a CPA.
Our degree programs boast the academic rigor you'd expect from a career-focused university, but we keep our class size small so that you receive individual attention from faculty, creating that small college feel that Husson is known for. And both of these degree programs are offered online, so you can continue your education from the comforts of home.
Ready to take the next step on the path to your dream accounting job? Consider Husson. Reach out to admissions today to learn more.
Back to All Articles