WHSN Broadcast Takes First Place at the College Media Association Pinnacle Awards
Published on: November 23, 2016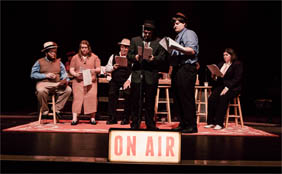 BANGOR, MAINE -
 Husson University announced today that WHSN 89.3 FM took first place at the College Media Association's Pinnacle Awards. This prestigious national collegiate media organization recognized the station's 2015 live broadcast of Edgar Allan Poe's "The Premature Burial" as the Best Radio Talk/Entertainment Show of the Year.
"Our students and faculty are what make the annual "Tales of Mystery and Imagination" broadcast so successful," says Mark Nason, manager of communications and internships at Husson University's New England School of Communications (NESCom). "This award stands as a testament to the quality learning experience we make available to our students. With modern broadcast equipment and knowledgeable, experienced faculty members, NESCom's radio production program is regarded by many as the best in Maine."
The College Media Association's (CMA) Pinnacle Awards honor the best college media organizations and individual work. The contest is open to student work produced by any college media organization during an academic year. The awards, presented at the Fall National College Media Convention, recognize achievements by college TV and radio stations, online media outlets, magazines, newspapers and yearbooks.
In winning this first place award, WHSN 89.3 FM prevailed over similar programs at much larger universities. Second place went to West Virginia University's (WVU) "Moose in the Morning." The Fall 2015 enrollment at WVU's main campus is 28,776. Fall 2015 WVU System enrollment is 31,514. Third place went to WZIS-FM at Indiana State University (ISU). Total enrollment at ISU during the fall of 2015 was 13,584 students. Husson University, by comparison, is much smaller. Fall 2015 enrollment at Husson was 3,420 students. Husson continues to grow. In Fall 2016, Husson University enrollment was 3,682.      
"Our radio program is just as good, if not better, than those at larger colleges and universities," continued Nason. "The individual attention NESCom students get as part of their education is one of the reasons why so many of our graduates go on to achieve career success after graduation."
The live radio broadcast of Poe's "The Premature Burial" was performed as a live 1940's-style radio drama from the stage of the Gracie Theatre. It featured a cast of Husson University students and local area residents. Members of the audience got to see everything that goes into the creation of a live radio drama – including the terrifying sound effects.
"The Premature Burial" by Edgar Allan Poe is about a man who randomly falls into a death-like trance. As a result of this condition, he's afraid that he'll be mistakenly declared dead and subsequently buried alive. He becomes obsessed by this fear. To protect himself, he refuses to leave his home and builds an elaborate burial chamber with equipment that will allow him to signal for help in case he finds himself entombed accidentally. Then, one day, he awakens in pitch darkness in a confined area. Despite his precautions, was he buried alive?    
In past years, "Tales of Mystery and Imagination" has received accolades and recognition from a variety of organizations. Recognition for past productions includes:
"The Cask of Amontillado"
2011 – Broadcast Education Association (BEA) Festival of Media Arts - Honorable Mention Student Audio Comedy or Drama category
"The Fall of the House of Usher"
2012 - BEA Festival of Media Arts - First Place Student Audio Comedy or Drama category
2013 - College Media Association Pinnacle Awards - Finalist - Best Radio Talk/Entertainment Program
"The Masque of the Red Death" and "The Pit and the Pendulum"
2013 - Maine Association of Broadcasters - Second Place Locally Produced Program category
"The Murders in the Rue Morgue"
2014 - College Media Association Pinnacle Awards - First Place - Best Radio Talk/Entertainment Program
2014 - BEA Festival of Media Arts - First Place Student Audio Comedy or Drama category
2014 – College Broadcasters, Inc. (CBI) National Student Production Awards - Finalist Best Special Broadcast
2014 - Maine Association of Broadcasters -Third Place Locally Produced Program category
In reflecting on the success of the live radio show, Husson University Senior Vice President for Academic Affairs and Provost Dr. Lynne Coy-Ogan remarked, "Members of the public and our campus community who attend these live broadcast have seen, first hand, why the New England School of Communications at Husson University is regarded as one of the region's leading educators of media professionals. The professional quality of our students and the broadcast is impressive."
Completed in October of 2009, the Gracie Theatre is Husson University's center for the fine and performing arts. This beautiful new 500-seat theatre is quickly earning a reputation as one of Maine's premier performance venues. In addition, The Gracie also serves as a learning platform for students from the New England School of Communications in digital audio, sound mixing, set design and construction, lighting, acting and electronics. For more information, visit GracieTheatre.com 
The New England School of Communications (NESCom) at Husson University offers Bachelor of Science degrees in communications technology, mass communications, and entertainment production. Within these degrees, students may choose from concentrations in audio engineering, live sound technology, video production, web media, entertainment production, journalism, marketing communications, radio broadcasting, and sports journalism. NESCom specializes in communications and provides students with a hands-on experience that gives them the education and skills needed for today's job market.
For more than 100 years, Husson University has prepared future leaders to handle the challenges of tomorrow through innovative undergraduate and graduate degrees. With a commitment to delivering affordable classroom, online and experiential learning opportunities, Husson University has come to represent superior value in higher education. Our Bangor campus and off-campus satellite education centers in Southern Maine, Wells and Northern Maine provide advanced knowledge in business; health and education; pharmacy studies, science and humanities; as well as communication. In addition, Husson University has a robust adult learning program. For more information about educational opportunities that can lead to personal and professional success, visit Husson.edu.
Back to All Articles