Husson University's College of Science and Humanities to Celebrate New Name at Unveiling Ceremony
Published on: October 12, 2016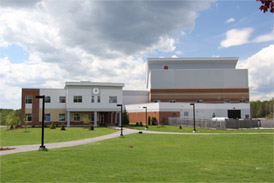 BANGOR, MAINE – October 12, 2016 – 
WHAT: On August 1, Husson University's School of Science and Humanities officially changed its name to the College of Science and Humanities. This new name more accurately reflects the breadth and depth of academic programs available to students as well as the bulk of the university's general education and professional school prerequisite courses provided by the college. Completion of these prerequisite courses is required of all students at Husson University.
 In recognition of the thousands of hours required by College of Science and Humanities full-time faculty and staff members to make this restructuring possible, Husson will be hosting an unveiling ceremony for the College's new name.
Academic programs represented at this ceremony will include:
Biology
Biochemistry
Data Analytics
English – with both traditional and pre-law track options
Environmental Science
Exercise Science
Health Science – with both pre-pharmacy and pre-professional tracks
Healthcare Studies
Liberal Studies
Psychology
Biochemistry, exercise science, and data analytics are all new programs that Husson University's College of Science and Humanities began offering for the first time this fall.
WHO: Featured presenters at the event will include, Dr. Robert A. Clark, president of Husson University and Dr. Patricia Bixel, dean of the College of Science and Humanities. Dr. Lynne Coy-Ogan, senior vice president for academic affairs and provost may also say a few words.
College of Science and Humanities students, faculty and staff will all be attendance.
WHEN: Thursday, October 20, 2016, 4:00 p.m.
WHERE: Darling Atrium (lobby area outside of the Gracie Theatre entrance)
                Beardsley Meeting House
                Husson University
                1 College Circle
                Bangor, ME 04401
WHY:   The tremendous growth of the university and the scope of work done by Science and Humanities led to this name change. Today, the College of Science and Humanities is an organization that encompasses a diverse series of programs and provides students with the foundational knowledge they need to achieve career success.
 The mission of Husson University is to inspire and prepare students for professional careers in current and emerging fields within the context of an education informed by the sciences and humanities. As a consequence, the education available through the College of Science and the Humanities at Husson University is at the heart of every undergraduate student's degree.
For more than 100 years, Husson University has prepared future leaders to handle the challenges of tomorrow through innovative undergraduate and graduate degrees. With a commitment to delivering affordable classroom, online and experiential learning opportunities, Husson University has come to represent superior value in higher education. Our Bangor campus and off-campus satellite education centers in Southern Maine, Wells, and Northern Maine provide advanced knowledge in business; health and education; pharmacy studies, science and humanities; as well as communication. In addition, Husson University has a robust adult learning program. For more information about educational opportunities that can lead to personal and professional success, visit Husson.edu.
Back to All Articles