Maine Criminal Justice Academy Phase II 2016
Published on: May 18, 2016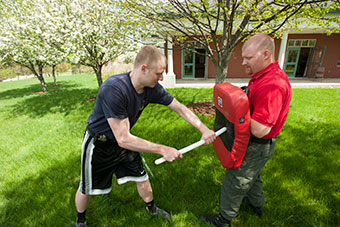 BANGOR, MAINE – May 18, 2016 – The G. Peirce Webber Campus Center in Peabody Hall on the campus of Husson University in Bangor, Maine will be the site for Mechanics of Arrest, Restraint and Control (MARC) training for aspiring law enforcement professionals on Thursday, May 19 from 8 a.m. – 5:00 p.m. and Friday, May 20 from 8 a.m. – 11:30 a.m. This session is part of the Law Enforcement Pre-Service Training and is specifically designed for individuals interested in working as reserve law enforcement officers.
In addition to focusing on the mechanics of an arrest, this hands-on training session will address the situational use of force, demonstrate the proper use of handcuffs and teach law enforcement professionals how to prevent suspects from getting control of an officer's firearm.
"We are pleased to partner with the Maine Criminal Justice Academy and to make this education available to aspiring law enforcement professionals," says School of Legal Studies Assistant Professor Michael Kamorski, Ed.D. "This year we have 29 participants; a significant increase over previous years. Approximately 50 percent of the participants are students enrolled in Husson University's criminal justice program. The other half are coming to this training session from other parts of the state."
To qualify for Phase II training, individuals must complete 40 hours of online training, pass a background check, pass the ALERT exam, and meet the necessary physical fitness requirements.
The 80 hours of Phase II training consists of:
Interactive scenarios based on classroom education including instruction on investigative procedures. This will take place in Husson University's Kominsky Auditorium.

Hands-on training about the mechanics of an arrest and the situational use of force
Kamorski, Assistant Professor and Director of the School of Legal Studies John Michaud, and Adjunct Professor Eugene Fizell are the site coordinators for this educational event. Instructors for the classes are provided by Region V law enforcement agencies. The training is supported by the Region V Chiefs of Police.
Over the past decade, numerous students have gone through this training. Husson University students who complete Phase I and Phase II training are eligible to receive six credit hours toward their degree.
Phase III focuses on field training and is administered by the agency hiring a reserve officer. 

Phase I – III are part of the Maine Criminal Justice Academy's Law Enforcement Pre-Service Training Program. In 1989, the 114th Maine Legislature passed laws mandating that the Board of Trustees of the Maine Criminal Justice Academy establish standards for pre-service training. The purpose of this mandate was to ensure that no person could "serve as a law enforcement officer with the power to make arrests or the authority to carry a firearm until certified as satisfying pre-service training requirements." This resulted in the three-part Law Enforcement Officer Pre-Service Training Program.
The Maine Criminal Justice Academy (MCJA) serves the people of Maine by promoting the highest level of professional standards and performance through the training of criminal justice personnel. To achieve this the MCJA strives to: merit public confidence in the criminal justice system; provide high quality training; promote a work environment of mutual respect, support and trust; advance policies and procedures developed in the interest of public safety and service; and encourage cooperation and coordination among criminal justice agencies. For more information, visit Maine.gov/dps/mcja/index.shtml.
For more than 100 years, Husson University has prepared future leaders to handle the challenges of tomorrow through innovative undergraduate and graduate degrees. With a commitment to delivering affordable classroom, online and experiential learning opportunities, Husson University has come to represent superior value in higher education. Our Bangor campus and off-campus satellite education centers in Southern Maine, Wells, and Northern Maine provide advanced knowledge in business; health and education; pharmacy studies; science and humanities; as well as communication. In addition, Husson University has a robust adult learning program. For more information about educational opportunities that can lead to personal and professional success, visit Husson.edu.
Back to All Articles