Students Practice Law Enforcement Oral Board Interviews as Part of Husson University's Criminal Justice Program
Published on: March 25, 2016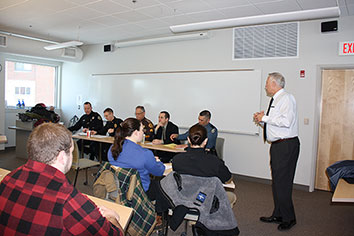 BANGOR, MAINE
– March 25, 2016 – A young woman enters a room and sits down. She faces members of the State Police, local law enforcement and the county sheriff sitting behind a table. None of them smile. They understand the gravity of the situation. Each of these seasoned professionals then asks the young woman difficult questions. Her mouth suddenly feels dry and a small bead of sweat runs down the side of her face as she searches her mind to give an answer that will satisfy the officers.
Is she being interrogated for a crime?
No. It's all part of a Husson University classroom exercise designed to help prepare criminal justice students for the job application process.
Prior to being offered a job with any law enforcement organization in Maine, and most other locations, prospective law enforcement professionals must complete an oral board examination. The board is normally composed of three or four experienced officers who ask the candidate questions.
"These mock oral board interviews give students a sense of how the process works," said John Michaud, assistant professor and director of Husson University's School of Legal Studies. "We want them to experience the kinds of questions they might be asked so they'll be fully prepared for an actual board interview."
The mock oral boards will be taking place on Tuesday, March 29, 2016 from 8:00 a.m. – 9:15 a.m. in Peabody Hall, Room 228.   
Law enforcement officers employed by the Maine State Police, Penobscot and Piscataquis County Sheriff's Departments, and the Bangor Police will be serving as members of the board for this classroom exercise. All of them are active duty officers who have served on real boards.
During the mock board interview process, students' knowledge of police procedure and situational application of the law will be tested. In addition, the officers will try to get a sense of the candidate's professional judgment. Six students have volunteered to be "applicants" as part of this exercise.
College of Business Dean, Dr. Marie Hansen sees enormous educational benefit in this exercise. "At Husson University, we stress a hands-on, learn by doing approach. Describing what a board interview is like is a not the same as going through one. Our experiential learning approach is the best way to prepare students for career success after graduation."
Students enrolled in Husson University's criminal justice program can choose from a variety of degree options including: associate's, bachelor's, and dual bachelor's degrees in criminal justice and psychology. There's also a five-year program where students complete a dual bachelor's degree and a master's degree.
Undergraduate criminal justice students may choose from a wide range of internships. In addition, they can attend the Maine Criminal Justice Academy in their senior year to pursue certification to become eligible for employment as a full-time law enforcement officer upon graduation.
Students also have the option to pursue a master's degree in criminal justice administration. The Master of Science in criminal justice administration focuses on the traditional areas of law, budgeting, and policy-making, with careful attention paid to the development of skills in communication, interpersonal relations, psychology, and leadership - essential to effective performance in organizations. For more information about the degrees available through Husson University's School of Legal Studies, visit Husson.edu/LegalStudies
For more than 100 years, Husson University has prepared future leaders to handle the challenges of tomorrow through innovative undergraduate and graduate degrees. With a commitment to delivering affordable classroom, online and experiential learning opportunities, Husson University has come to represent superior value in higher education. Our Bangor campus and off-campus satellite education centers in Southern Maine, Wells, and Northern Maine provide advanced knowledge in business; health and education; pharmacy studies; science and humanities; as well as communication. In addition, Husson University has a robust adult learning program. For more information about educational opportunities that can lead to personal and professional success, visit
Husson.edu.
Back to All Articles