Continued Growth at Husson University: Six New Programs to Roll Out in Fall 2016
Published on: February 19, 2016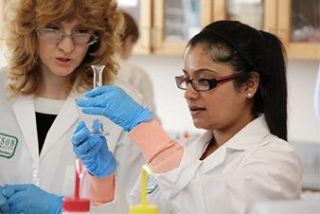 BANGOR, MAINE
- Husson University announced today that it is launching six new programs in science, technology and management designed to prepare students for career success in current and emerging fields.
"Husson's continued growth is a source of pride for our entire community," said University President Robert A. Clark, Ph.D., CFA. "Our growth as a University is the result of years of hard work. The expansion of our program offerings is a testament to our optimism and enthusiasm for the future as is our commitment to building a new facility for our College of Business. These programs are another step in our journey toward becoming a globally recognized educational leader."
The six new programs Husson is launching this fall also offer significant benefits to students and employers. "These new degrees will provide students with the specialized skills and education demanded by companies in todays' complex, innovative and technological global economy," said James Westhoff, Director of Career Services at Husson University. "Employers need a professional workforce with in-depth knowledge who can "hit the ground running" and help their organizations prosper.
Westhoff continued: "Our degrees focus on experiential learning and include an emphasis on internships. This learn-by-doing approach gives Husson students' a unique ability to provide value to employers and is why so many firms compete to hire our graduates. Internships are also a great way for organizations to develop a pipeline of new hires that they already know."
The new degrees include both undergraduate and graduate programs from Husson University's College of Business, College of Pharmacy and School of Science and Humanities. The following new degree programs will all be available in Fall 2016:
•
Master of Business Administration (MBA) with a concentration in Biotechnology and Innovation.
In recent years, biotechnology firms have become a driving force behind the research and development of creative new solutions to healthcare issues. Integrating scientific, clinical, digital and regulatory change, this industry is now one of the fastest-growing sectors of the economy. As a result, there is an increased demand for business professionals who understand how service, marketing, systems, finance and medical research intersect. This program will be offered both on campus and online at online.husson.edu.
•
Master of Business Administration (MBA) with a concentration in Risk Management.
Risk and uncertainty are present in all types of businesses and organizations. Inadequate risk management can result in severe fiscal, legal, physical or environmental consequences. Focused on the identification and assessment of employee rights and benefits, as well as liabilities, regulations and law, this MBA program is designed to provide students with the knowledge and skills they'll need as leaders in insurance, human resources or other operations positions. Students will learn to understand, analyze, and address risk to ensure that organizations achieve their performance objectives.
•
Master of Science in Pharmacology.
This advanced degree provides students with laboratory bench skills and in-depth knowledge of pharmacology and toxicology. The program admits students who have obtained a bachelor's degree in chemistry, biology or some other science-based undergraduate degree. The program is a great fit for students interested in careers in the pharmaceutical industry, biomedical research or furthering their education to obtain an advanced degree, such as a doctorate. Employment opportunities for pharmacologists include work in the pharmaceutical industry, government agencies, laboratories, and biotechnology companies.
•
Bachelor of Science in Biochemistry.
The need to develop biological products and processes that improve people's lives is fueling the demand for biochemists. These individuals study the chemical and physical principles of living things and biological processes, such as cell development, growth, heredity, and disease. Biochemists can then apply this knowledge in research and commercial enterprises, typically working in laboratories and offices where they conduct experiments and analyze the results. Students who complete this degree will have the foundation of knowledge needed to work in chemistry, healthcare, business and environmental science or go on to graduate work in the health professions. Graduate work can include research as well as medical, pharmacy or veterinary school.
•
Bachelor of Science in Data Analytics.
Data analytics is all about evaluating and making decisions based on information. Students in this program will learn how to use tools from computer science, mathematics and statistics to collect, organize and analyze data. They then communicate these results to help people make informed decisions. This field has a wide range of applications. Finance, energy, environmental, healthcare, sports, marketing, research, and other organizations all need qualified data analytics professionals.
•
Bachelor of Science in Exercise Science.
As people become more health conscious, the demand for professionals who can both prevent and rehabilitate injury or disease is expected to increase. In fact, the demand for athletic trainers, in particular, is projected to grow 21 percent from 2014 to 2024 - much faster than the average for all occupations. Graduates of this degree program are trained to assess, design and implement exercise plans for people who may be healthy or who have been compromised by disease or injury. Employment opportunities include work in medical, private, commercial and sports fitness facilities as well as clinical settings such as cardiac and pulmonary rehabilitation. Other graduates may move on to medical school or research careers.
Husson University is confident about the success of these new programs. Individuals interested in one or more of these degrees are encouraged to contact the University for more information. If you have questions about Bachelor of Science degrees, please contact Husson University's Office of Admissions at admit@husson.edu or 207-941-7100. Inquiries about master's degrees should be directed to the Office of Graduate Admissions at 866-567-5990 or <a href="mailto:graduateschool@husson.edu" class="undefined">graduateschool@husson.edu</a>.
For more than 100 years, Husson University has prepared future leaders to handle the challenges of tomorrow through innovative undergraduate and graduate degrees. With a commitment to delivering affordable classroom, online and experiential learning opportunities, Husson University has come to represent superior value in higher education. Our Bangor campus and off-campus satellite education centers in Southern Maine, Wells and Northern Maine provide advanced knowledge in business; health and education; pharmacy studies; science and humanities; as well as communication. In addition, Husson University has a robust adult learning program. For more information about educational opportunities that can lead to personal and professional success, visit
Husson.edu
.
Back to All Articles