Prepare to become an integral part of a healthcare team and make an impact as a physical therapist. At Husson University, you'll receive excellent, hands-on training as you learn from expert and experienced faculty.
Sign Up for More Information
Please select "Request Info" to stay connected with Husson. We'll send you information about your areas of interest and keep you up to date on campus events. 
Ready to apply? There's a button for that, too.
Apply
Request Info
School of Physical Therapy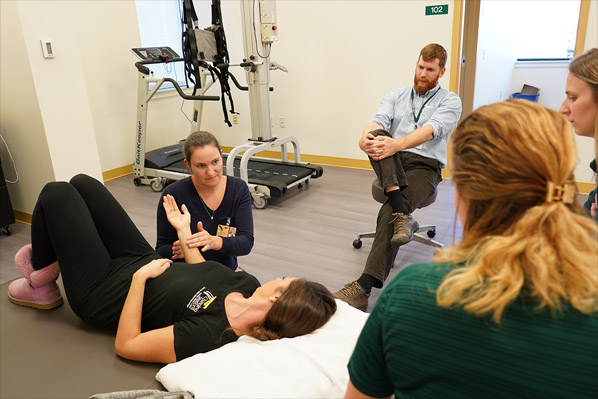 The mission of the Husson Physical Therapy Program is to graduate generalist practitioners who are movement specialists with advanced skills in selected practice areas.  These skilled, knowledgeable, ethical, and reflective practitioners are independent in their assessment of client needs and collaborative within the health care team for the promotion of health and function.  These graduates are responsible and self-directed learners, both adaptable and successful in utilizing evidence-based practice to address issues within diverse and complex health care systems, practice environments and client populations.

Students in Husson's DPT program also have the option to pursue a dual degree program to earn a Master of Business Administration in addition to the DPT. This dual degree prepares students for careers as licensed physical therapists with added expertise in pursing private practice ownership, and competitive management/administrative positions.

DPT Faculty Commitment
Our faculty is comprised of expert clinicians and doctorally-prepared researchers who are committed to cultivating a positive learning environment, to providing quality learning experiences consistent with current and innovative professional practices, and to advancing the physical therapy profession through scholarly inquiry, clinical practice, and engaged leadership.
Balanced Approach to Learning
The DPT program balances academic study with clinical experience while facilitating students to reflect and assess their own learning needs.  Academic faculty commit to integrating foundational science courses with clinical content and skills, clinical reasoning skills, and functional outcomes. Clinical faculty help to ensure clinical competency through hands-on learning experiences and the evaluation of the learner's performance. 
Consider What the Husson DPT Program Has to Offer
Your choice of a physical therapy program is extremely important in determining your growth as a person and developing your expertise as a Physical Therapist. At Husson, you will find:
Affordable tuition
Faculty expertise, experience and qualifications
1:10 faculty to student ratio
Dedication to small class sizes
Individual attention from faculty members
Facilities & equipment including a dedicated gross anatomy lab
Kenduskeag Institute's Human Performance Lab, a premier scientific research facility
Opportunities for advanced electives
Opportunity to serve in student run pro bono clinic
DPT plus a BS in Exercise Science in only 6 years 
Guaranteed progression into the DPT program by maintaining a Husson undergraduate

 3.2 GPA

92% 2-year DPT graduation rate (2021-2022)
91% first-time licensing examination pass rate for the DPT program (2020-2021)
100% ultimate licensing examination pass rate for the DPT program (2020-2021) 
100% employment of graduates as PTs within six months of passing the licensing examination (2021-2022) 
The School of Physical Therapy at Husson University is accredited by the Commission on Accreditation in Physical Therapy Education (CAPTE), 3030 Potomac Ave., Suite 100, Alexandria, Virginia 22305-3085; telephone: 703-706-3245; email: accreditation@apta.org; website: http://www.capteonline.org.  If needing to contact the program/institution directly, please contact Karen Huhn, PT, PhD, huhnk@husson.edu.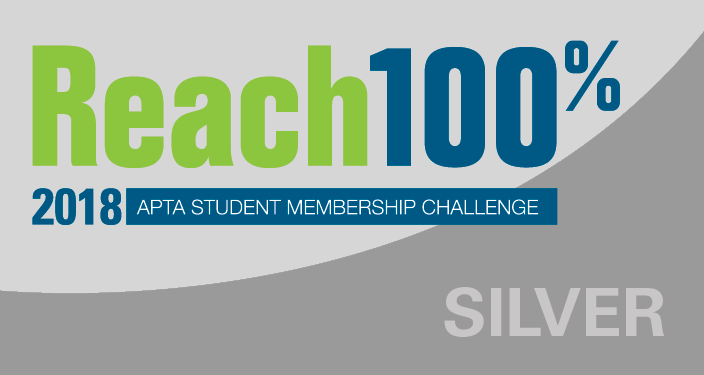 School of Physical Therapy Tuition and Costs
The mission of Husson University's School of Physical Therapy is to develop physical therapists who are specialists in the art and science of human movement, embody the characteristics of lifelong learners, and strive to be agents of change. Graduates shall be distinguishable by their skills, ethical integrity, cultural competence, collaboration, and leadership. Graduates will use evidence-based practice to optimize human movement and promote health and wellness in a dynamic healthcare environment.