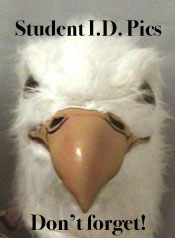 Welcome Weekend
Welcome Weekend begins the year at Husson University. Students will move into their residence hall rooms, attend a Convocation Ceremony with their family, develop relationships with other entering students through both fun activities and formal presentations, and attend their first "Husson Experience" class, a class developed specifically to meet the needs of first-year students.
Homecoming
Held in the fall of each year, Homecoming is an opportunity for alumni and current students to share in the Husson experience and renew traditions.
President's Breakfast
Each fall, the President invites all first-year students and their families to join him and student service representatives for a buffet breakfast. This is a fun and informal event which allows for lots of interaction between faculty, staff, students and their families.
Homecoming Football Game
The Saturday afternoon football game is a highlight of homecoming. Win or lose, Husson fans have a great time and the alums celebrate with a big dinner and plenty of awards.
Alumni Banquet
Held during Homecoming Weekend for both alumni and current students, this banquet is an opportunity to publicly recognize accomplishments.
Alumni Hall of Fame Inductions
Alumni are recognized and inducted into the Alumni Hall of Fame based on their outstanding accomplishments since their graduation. These awards are made during the Alumni Banquet.
Sports Hall of Fame Inductions
Outstanding alumni are inducted into the Sports Hall of Fame during homecoming weekend.
Midnight Madness
Held in the fall each year for the entire student body, this event is scheduled on the day that NCAA rules allow for basketball practice to begin. At midnight there is an opportunity for a student to make a $10,000.00 dollar shot. The event gives the student body an opportunity to develop school spirit and recognize all athletic teams and players.
Ice Cream Social
Faculty and staff serve students mid to late fall semester to an ice cream Sundae buffet. A real morale booster.
President's Holiday Reception
Hosted by the University President and the Student Life team, this evening reception is held the first Sunday night in December. The Campus Center is beautifully decorated, holiday tunes are provided by the Husson Student Chorus as well as by a sound system, and a fire blazes in the big stone fireplace while students relax and enjoy festive holiday treats and sparkling cider from a fountain!
Winter Carnival
Held in mid-February, this is a time for all students, clubs and organizations to take a break from classes and celebrate the great outdoors with winter games and--snow permitting--an ice sculpture competition.
International Day
A day set aside to honor the diversity and customs of our international student body...it is capped with a fashion show and demonstration of customs and foods.
Greek Week
A week of activities to highlight Greek life on the Husson campus. Fun and service project opportunities are the focus for the week.
Late Night Breakfast
During finals of the spring semester, the faculty, administration and staff serve a late night breakfast to the entire student body. Serving includes table service and clearing trays.
Etiquette Dinner
Sponsored by Dining Services and Career Development, this is an evening where students are given an opportunity to enjoy fine dining and learn more about dining etiquette as they prepare for their post-graduation professional lives.
Husson Spirit Weekend
A newer tradition which captures the essence of what was formerly known as "Chief Week" is Spirit Weekend. This event begins with a "service day" on Friday during the spring semester, followed by a full day of fun activities, a campus wide concert or other major event and ending with a spirit brunch on Sunday.
Commencement
The capstone of the collegiate experience, commencement is held inside at the Cross Insurance Center in Bangor.