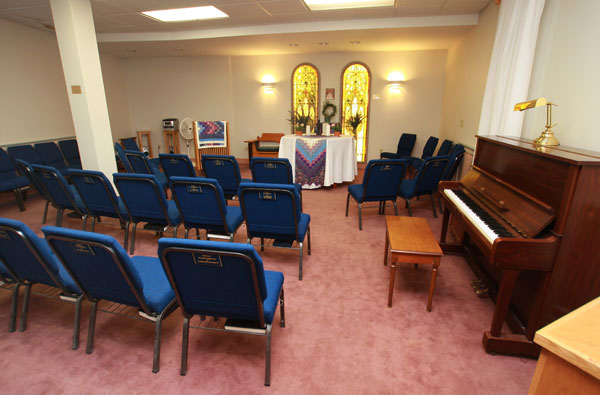 Chaplain Services
Staffed by the University Chaplain and two Bangor Theological Seminary Interns, the Office of the Chaplain is committed to addressing the spiritual needs of all members of the Husson Community (students, administration, faculty and staff). Its mission is to foster an understanding and appreciation for the diverse religious and spiritual life on the college campus. This is accomplished by sponsoring programs and events that encourage learning about various religious traditions and spiritual practices, offering noontime chapel experiences in Leonard Chapel, collaborating with the greater Bangor religious community to connect students with local faith communities, sponsoring retreats, concerts, and off-campus learning experiences.
The Office of the Chaplain also provides services for the college community such as pastoral care and student program support. All faith traditions are encouraged to and welcome to utilize Leonard Chapel, located in Peabody Hall, by signing up for time in the Office of the Chaplain. The Chapel is open for any member of the Husson community for personal reflection, meditation and or prayer from 6:00 a.m. to 9:00 p.m. seven days a week.
The Chaplain works closely with the Student Life staff and provides a presence at many campus events. The Office of the Chaplain is located at 206 Peabody Hall. All are welcome to drop by or make an appointment Tuesday, Wednesday, or Thursday from 8:00 a.m. to 7:00 p.m.
Worship Services
College life can be hectic and demanding with classes to attend, projects to complete and the never ending deadlines for submitting class papers. In the midst of all this activity, we can often become stressed and overburdened with the concerns of the day. A time in the middle of the day when we can come before God and meet together to worship can refresh us. Why not take half an hour on Tuesday lunchtime to join with others at the Contemporary Worship Service in the chapel from 12:15 - 12:45? All students, faculty and staff are welcome to attend the services.
Common Worship Chapel
Led by Bangor Theological Seminary students, faculty, staff, and guests from the community, Common Worship is held at 12:00 noon on Wednesdays in Leonard Chapel. Everyone in the Husson community is welcome to attend.
Eucharist
Is offered on Fridays at 12:00 noon, in the Anglican or Episcopal tradition and is another opportunity for community worship. All are welcome. These services are "user friendly," no juggling of multiple books, and the services follow a stable pattern to allow us to experience a specific culture of worship together. Come join us in worship.
Taize prayer
Wants you to take time to reflect inward to dwell on the union of our soul with Christ. When we open the Gospel, each of us can say, "These words of Jesus are rather like a very ancient letter written in an unknown language. But since it is written to me by someone who loves me, I am going to try to understand its meaning, and to put into practice right away the little I have grasped." If you think you would like to participate in Taize worship, watch for notices; we usually schedule two Taize services each semester. All are welcome to attend this peace-filled and grounding experience.
Talking Together
Let's Talk About Life
Each Thursday from 12:15 - 12:45 please feel free to drop in to the Chapel and talk with the Chaplain and others about anything! All are welcome to come and share their questions, views and thoughts. It is low key and open to any topic as we explore together what it means to be a college student today.
Interfaith Dialogue
Recognizing our ability to act with compassion, love, and respect towards all humankind, regardless of cultural or faith background, is of paramount importance. The Office of the Chaplain provides a forum for Interfaith Dialogue. The ability to engage in dialogue between different faith traditions has become increasingly important in order to gain an inter-religious and inter-cultural perspective on global affairs, as well as a way to strengthen one's own faith. Come by 206 Peabody on Thursdays at 5:00 p.m. and explore together.