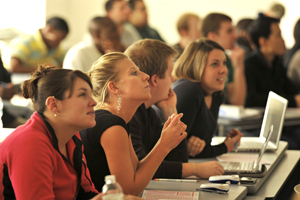 Husson University School of Pharmacy's Doctor of Pharmacy program is accredited by the Accreditation Council for Pharmacy Education, 135 South LaSalle Street, Suite 4100, Chicago, IL 60503, Phone 312.664.3575; FAX 312.664.4652, web site www.acpe-accredit.org."
A regional leader in integrative pharmacy education, committed to improving the practice of pharmacy and rural health care delivery in the State of Maine.
Pharmacy practice is currently the third largest health profession in the US and the national and regional demand for pharmacists remains strong. Projections in 2006 estimated approximately 198,000 registered pharmacists in the profession with a projected manpower deficits extending out to 2020. With one of the poorest pharmacist per capita aggregate demand indices in the country, the Maine Department of Labor projects a significant increase in pharmacy related careers in the state.
Husson University is the largest private educator of Maine students and offers an array of doctoral, masters and bachelors degrees in the field of health through its colleges and schools of health and education, pharmacy, science and humanities, and business.
Entry Into the 4-Year PharmD Program
Candidates who hold earned undergraduate or graduate degrees or hold sufficient undergraduate credits in science or related fields of study may apply directly into the four-year professional PharmD program. For more information, click here to go to the Admissions to Pharmacy link or call 207.973.1019. For information on the tuition rate for the PharmD program, please click here.
About the MS in Pharmacology Program
This advanced degree provides students with laboratory bench skills and in-depth knowledge of pharmacology and toxicology. The program admits students who have obtained a bachelor's degree in chemistry, biology or some other science-based undergraduate degree.  The program is a great fit for students interested in careers in the pharmaceutical industry, biomedical research or furthering their education to obtain an advanced degree, such as a doctorate. Employment opportunities for pharmacologists include work in the pharmaceutical industry, government agencies, laboratories, and biotechnology companies. Click here to learn more. 
Our Faculty
Husson University prides itself as a teaching institution. However, the importance of faculty scholarship and research to contemporary pharmacy education is not overlooked. The School of Pharmacy has been able to attract nationally renowned educators with expertise in alcohol research, wound healing, and national board certification in the specialty areas of pharmacotherapy.
Our Facilities
The Husson University Trustees have designated approximately 25,000 square feet in the Peabody/Commons academic complex for the School of Pharmacy. The School adjoins all of the institution's science labs as well as those facilities dedicated to the pre-pharmacy program and the doctoral program in Physical Therapy. Renovations have been completed and include faculty/staff offices; four 40-seat classrooms; two 80-seat classrooms; one 20-seat classrooms; a 42-seat cognitive skills laboratory with an adjoining patient counseling/assessment room; a dispensing laboratory including a simulated IV/sterile compounding area; and an 800 ft2 of on-campus basic pharmaceutical sciences research laboratory space and 2000 ft2 of state-of-the-art research laboratory space at the Husson University Research and Education Center on Sylvan Road.
For more information
Name

Phone and Email
Address
Elizabeth Roboul
Administrative Assistant to the Dean, School of Pharmacy

207.941.7163
roboule@husson.edu
333H Peabody Hall
Husson University
1 College Circle
Bangor, Maine 04401
Kristen Card
Director of Graduate Admissions

207.404.5660
cardk@husson.edu
126 O'Donnell Commons
Husson University
1 College Circle
Bangor, Maine 04401