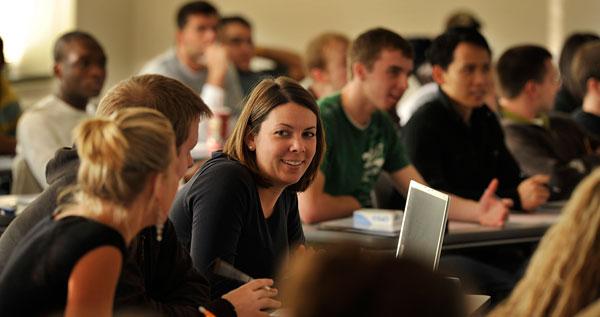 International students who wish to attend Husson University will need to obtain an F-1 Visa. F-1 designates education, non-immigrant status. To receive an F-1 Visa, complete the following steps. To stay organized, put all of your information in a folder and make a copy of every document!
To exit your home country:
Apply for a passport. This may take several weeks or longer so plan ahead. If you have a passport, be sure that the expiration date is no later than six months after you plan to enter the US.
Ask if there may be other required documents that permit you to leave your country.These may include:


legal agreements asking you to return to your country at a specific age
requirement to return to your country at the end of your schooling
requirement to return to your country for military service
financial disclosures
educational agreements
To enter the United States:
Obtain an I-20 form. This is called a Certificate of Eligibility. When you have  received an acceptance of admission to Husson University, you will receive your I-20 in the mail.   Be certain that Husson has your accurate mailing address.
Go to the US Immigration and Customs Student and Exchange Visitor Program website (SEVIS).
Pay the SEVIS fee of $200 USD. This is called an I-901 fee. Print a copy of your receipt. Keep it for proof of payment at your interview.
Make an appointment for a visa interview. Check online for the application fee

What to bring:


your I-20 form from Husson University
your passport with an expiration date no later than 6 months after you will enter the US
a completed Application for Non-Immigrant Visa (form OF-156) and a photo
a completed Declaration of Finances and Proof of Support to verify your financial status. You must have proof that you have the financial support to pay in advance for an entire year of study
proof that you have paid the SEVIS, I-901 fee (your receipt)
education documents: transcripts, diplomas, English competency assessments
your acceptance letter from Husson and proof of good health.
It is a good idea to practice your English before your interview. You must demonstrate to the consul at the Embassy that your English is proficient enough to be successful in your Husson program.
If you are refused a visa, you may reapply.
For more information or to find answers to your questions, visit:
http://travel.state.gov/content/visas/english/study-exchange/student.html#overview
Name
Phone and Email
Address
Colleen Grover
Director of International Initiatives

+1.207.404.5640
groverc@husson.edu
121 O'Donnell Commons
Husson University
1 College Circle
Bangor, ME 04401
Steve Egland


SEVIS Primary Designated Official at Husson University

+1.207.941.7085
eglands@husson.edu
Husson University
1 College Circle
Bangor, ME 04401
Name

Phone and Email
Address
Colleen Grover
Director, International Initiatives

207.404.5640
groverc@husson.edu
130 Peabody Hall
Husson University
1 College Circle
Bangor, Maine 04401
Steven Egland
International Student Immigration Advisor, International Student Immigration Affairs

207.941.7085
eglands@husson.edu
204 Peabody Hall
Husson University
1 College Circle
Bangor, Maine 04401