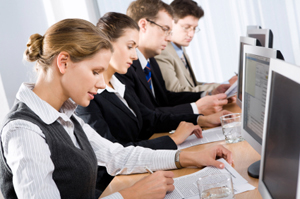 The program in Business Studies is a two-year program which results in an A.S. degree. It might be right for you if you seek a career-oriented two-year course of study and all of the specialized A.S. programs aren't what you are looking for. You can design a program to meet your individual needs and interests, with a mind to transferring into a four-year program at Husson if you choose.
The program requires a minimum of 60 credit hours of college-level work that demonstrates a broad base and also provides a significant concentration of study in one area within the College of Business.
Business Studies majors must develop a Career Statement and Plan of Study no later than the end of the first semester in the program. The Plan of Study must be approved by the Advisor and by the Dean of the College; the Dean and the Advisor must also approve changes in an approved Plan of Study.
All Business Studies majors must earn an overall 2.0 cumulative grade-point average as well as a 2.0 in their College of Business courses. Transfer students must complete a minimum of 15 credit hours of coursework in the College of Business.