Vision

Husson is a University of choice for premier professional programs where students succeed, experiential learning is championed and global engagement is emphasized.
Mission Statement

Husson University inspires and prepares students for professional careers in current and emerging fields within the context of an education informed by the sciences and humanities.
We achieve this career preparation by supporting and emphasizing
Outstanding teaching.
Scholarly contributions to one's discipline or field of expertise.
An undergraduate and graduate curriculum that is challenging, relevant, and promotes critical thinking skills, self-confidence and strong communication skills.
Commitment to ethical behavior and social responsibility through involvement in the world by faculty and students, administrators and staff, board members, and involved citizenship as a university.
Lifelong learning to prepare students professionally and personally for the challenges of a constantly changing world.
A diverse cultural and global perspective achieved through student development and experiential learning opportunities that reinforces our commitment to a strong academic community.
Careful management and stewardship of University resources.
Adopted by the Husson University Board of Trustees October 2, 2011.
Location
Husson University's primary campus (208-acres) is located in Bangor, Maine, a city of approximately 30,000 people, a short drive from the Maine coasts, forests, and mountains. Approximately 250 miles north of Boston and 250 miles east of Quebec City, Bangor has one of the lowest urban crime rates in the United States.
Husson also has education centers in Westbrook and Presque Isle.
Enrollment
We enroll approximately 2,800 undergraduate students at the Bangor campus, with about 700 more enrolled in graduate programs. Our students come from all over Maine, the country and the world.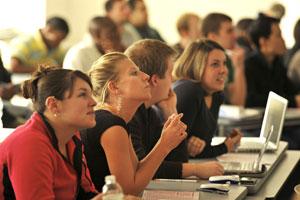 Class Size
The average class size is 21 students.
Faculty
Husson University employs 144 faculty members and a number of adjunct faculty with expertise in the profession that they teach.
Cost
Click here to go to the Costs page where you will find associated tuition charges for all of our academic programs.
Financial Aid
Nearly 90% of our students qualify to receive federal, state, community and/or campus-based financial aid and scholarships.
Academic Programs
We offer undergraduate and graduates degrees in the following academic disciplines:
Husson also offers a certificate program in Paralegal Studies at our Bangor and Westbrook locations.
Sports
A member of the NCAA Division III, Husson offers 18 varsity sports and intramurals using state-of-the-art facilities, including the Swan Center & Trott Fitness Studio, the Winkin Sports Complex, John P. Boucher Field, and Bob & Fran O'Keefe Softball Field. More than 400 athletes participate in intercollegiate athletics, with more than 600 students taking part in our intramural program.
Husson also supports a cheer team and a dance team.
Admissions
The Admissions Office staff provides guidance in the application process to applicants for admission to Husson University. Admissions Officers provide materials and applications to help applicants learn more about Husson, and also invite applicants for personal interviews and campus tours.
Alumni
The Office for Alumni Affairs, located in the Cyr Alumni Center in the Beardsley Meeting House, serves the needs of Husson's 18,000+ alumni. Along with Homecoming activities, the Alumni office sponsors events across the country and publishes the alumni magazine, The Ledger, to keep Husson Alumni informed about activities on the campus.
Accreditation
Husson University is accredited by: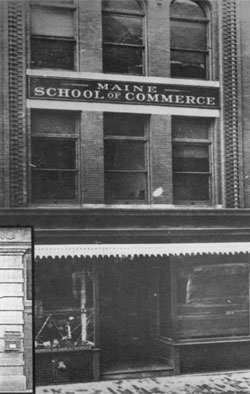 History
Since 1898, Husson has been educating Maine's leaders. Originally preparing students for commerce, teaching and telegraphy, Husson came of age in 1953, when the State enacted legislation authorizing Husson to grant Bachelor of Science degrees. In the sixties, Husson purchased a dairy farm, cleaned it up, and built a beautiful campus. In 1981, the College established the Husson College/Eastern Maine Medical Center Baccalaureate School of Nursing. Today, Husson offers numerous undergraduate degrees and many innovative advanced degree programs, as well as a diverse selection of core science and humanities courses. On October 11, 2008, Husson became a University, but it still continues to maintain its small college feel.
Today, Husson graduates hold leadership positions all over the country and the world.